A very good agent
He is very professional and took into account my needs. He informed me of all that was happening with home opens and sales strategy. Every thing he said came true. I would recommend him any time.
- Judith and Jenni
19 Rayner Street Altona
04 May 2022
From Day 1 both Peter and his colleague Mark Thompson have displayed the utmost of professionalism in handling the sale of my house
They made concrete suggestions to improve the appearance of the property and even tidied up the front garden which very few agents would do. They kept me well informed after property inspections and provided valuable guidance as to what market participants might pay. Every attention to detail was handled in a prompt and expert manner.
- Tony Milanese
4 Larnoo Ave Brunswick West
04 May 2022
Peter is a genuinely outstanding agent
Peter is a very genuinely passionate and personable agent whose unwavering dedication has you believing you are his only client. Our sale was due to a deceased estate. Peter's compassion carefully lead us through the sale process while showing great respect and sensitivity. His knowledge of the market and local area reflects his evident long standing commitment to the local community. If you are looking for a seasoned agent who will correctly set your expectations, Peter is your man.
- Ben Dennis
189 Esplanade Altona
04 May 2022
Gave Peter a call for an appraisal & found him to be friendly knowledgeable and professional
The process was done quickly and efficiently. Peter was constantly in contact with me keeping me updated. His communication professionalism and knowledge gave me every confidence in him
- Paul, Gail, Kaye & Trevor
29 Queen St Seaholme
17 Apr 2022
Honest. Efficient. Friendly. Reliable.
Peter and his business partner Mark took on the task of selling our home with confidence. Their quote range proved to be accurate - Peter's catch phrase should be "No BS!" because he is a straight talker with a lifetime of experience combined with integrity - traits shared by Mark
They offered guidance and advice every step of the way making selling our home as stress free as possible. Peter and Mark pride themselves on marrying the right property to the right buyer and they are both experts at this with no BS! We found the right person to love our house as much as we do - and in just 2 weeks it was sold!
- David King
2.31 Rayner St Altona
12 Apr 2022
Peters knowledge of Altona and the property market is worth its weight in gold.
From the first day of meeting Peter was a dream, Peter took us around Altona and showed us the rich history of the area and surrounding areas first and then talked us through the process of buying a home in the area, emails received from Peter were exactly what we asked for in a wish list of the type of home we were looking for whereas other real estate agents were sending us one bedroom apartments for a family of two adults and two children.
We bought our first home in Altona and Sold the same house 10 years later via the same person, it has been a seamless process with no hassle and no stress working with Peter, if anyone is looking at buying a house OR selling a house then I would have no hesitation at all in recommending Peter Weaver and Compass Estate Agents.
- Chan Sarai
153 Railway St Altona
04 Jan 2022
Professionalism at it's best
Professionalism at it's best
Dealing with Peter was a very pleasant experience under extreme conditions due to being in a Covid lockdown at the time of placing my property on the market.
Peter was very kind and reassuring when I was anxious about the situation with lockdown and not being able to bring prospective purchasers through.
I found Peter to be very professional in all that he did and feel at the end of the exercise I would be able to contact him for property advise at any time, should the need arise.
I wish Peter well in his new Real Estate Business and I am sure he will make it a great success.
Well done Peter and thank you for your Professionalism, honesty, wisdom and kindness, take care.
- Barbara Roberts
4 Moore Court Seaholme
30 Dec 2021
Peter takes care of both buyer and seller
Very impressive service, Peter is honest and frankly. Highly recommended
Buyer
- Ken
4 Moore Court Seaholme
08 Dec 2021
Sale 1 Watson Court Altona
Dear Peter
Thank you for how you engaged with us whilst selling Watson Court. We appreciated how you went about it, the conversations we had and the successful sale if the house. Enjoy these goodies and all the best with the new venture.
regards Roger and Craig.
- Roger and Craig
Altona
29 Nov 2021
Sale 8 Newton Court Seaholme
A fabulous agent
Peter is a professional, helpful and trustworthy person to deal with. He was professional and gave constant feedback about the selling process. I would recommend him to anyone who wants to sell.
Review submitted by Jess (vendor) on 19 Nov 2021
- Jess
seaholme
19 Nov 2021
When only the best will do
I've know Peter Weaver for many years. He is the 'real deal' putting me above his own self interest in the sale of my property. He is an honest, hardworking agent, probably one of the best in the industry. I've trusted his opinion, his judgement and I've not been disappointed. I am very proud to call Peter my friend.
Review submitted by Gina And Kevin Wallace (vendor) on 06 Oct 2021
3/109 Esplanade Altona
- Gina And Kevin Wallace
3.109 Esplanade Altona
06 Oct 2021
Friendly and Professional
A pleasure to deal with, Peter was a professional, friendly and accommodating agent.
Review submitted by LKC (buyer) on 28 Apr 2021
45 Chifley Ave Altona
- LKC
Altona
28 Apr 2021
Off the planet fantastic!
Peter is the ultimate professional and is also incredibly knowledgable about the Altona/Seaholme housing market. He found me the house of my dreams after my telling him what my requirements and price range were. At the same time as being trustworthy and friendly, I really appreciated his honesty and support throughout my time in Hobsons Bay whilst I was looking for a property over several months, before finally buying an off-market one, which Peter went to a lot of trouble with, to convince the vendors to let me look through the property!! Peter helped me throughout the entire process as I was moving from QLD to VIC and was purchasing a retirement home on my own - he instilled me with confidence and made the process as pleasant as it could possibly be.
Review submitted by Jan (buyer) on 15 Apr 2021
- Jan
seaholme
22 Apr 2021
Sale 9 Finley Road Altona
Peter did a brilliant job with the sale of our property in Altona. He was patient, thorough and his knowledge throughout the process was invaluable. Being a passionate Altona person meant that he was really invested and I highly recommend him.
Review submitted by Gary Manton (vendor) on 19 Apr 2021
- Gary Manton
Altona
22 Apr 2021
Thank you very much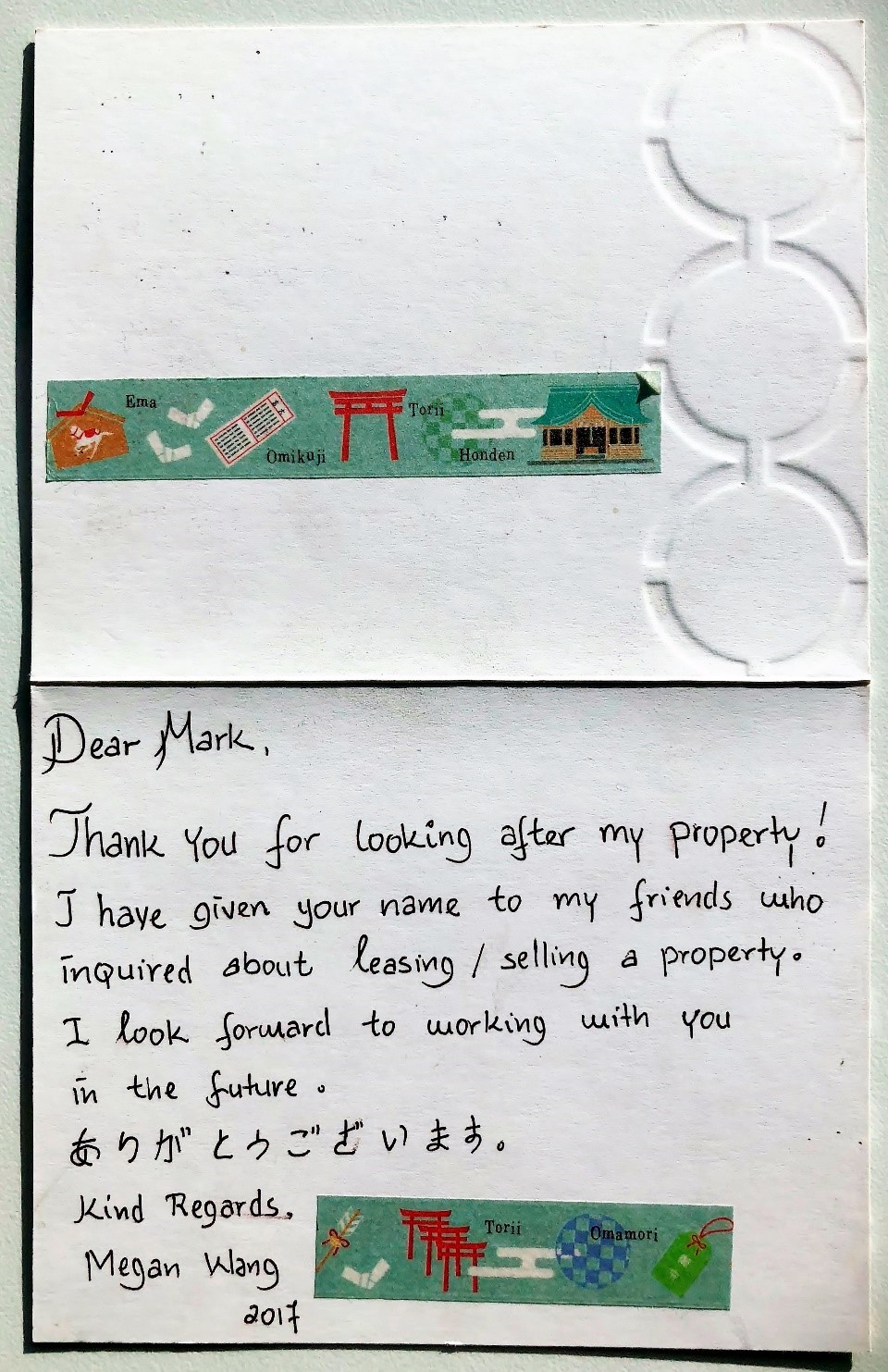 - Megan Wang
27 Jul 2018
All the best for 2018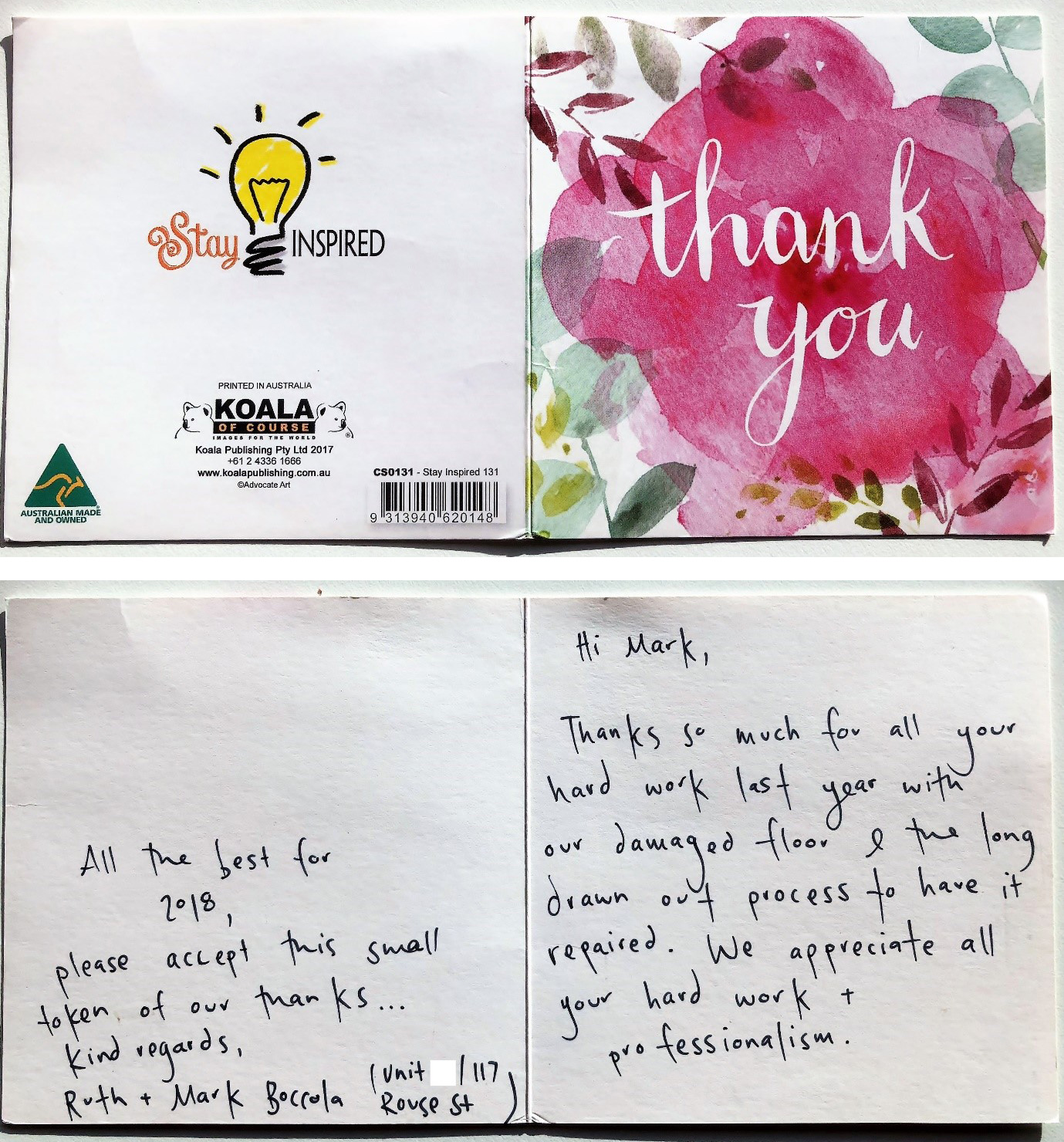 - Ruth + Mark Boccula
27 Jul 2018
Testimonial from Another Client
Hi Mark
I just wanted to take this opportunity to thank you for all of your help and support during the sale process for our property at 111 David Drive. You were very professional with the advertising and sale. You knew what we needed financially and were able to achieve this for us. I would definitely recommend you. You have also looked after our rental side since first purchased and we have never had an issue with tenants or vacancies.
No matter the time day or night you took my calls or rang to keep me up to date. Even the last minute phone call at settlement you were able to put our minds at ease.
At a time when I was on an emotional roller coaster you did your utmost to lead me in the right direction which helped me make good decisions, you very quickly dealt with the business side of the conversations and then listened to my sometimes teary personal issues letting me into your personal life with details of your dad and his road to recovery giving me hope that Peter could make the same sort of recovery. Every phone call that we had you asked me how he was going. You certainly went above and beyond to make my life easier and were always so genuine.
I wish you and your family the very best for the future.
Thank you again
Sincerely
- Ann Williams
27 Jul 2018